Collections of exercises (eBook)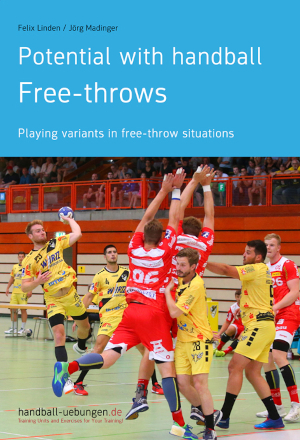 eBook: "Potential with handball – Free-throws" is the third topic Felix Linden, 2nd national handball league coach at HSG Krefeld, highlights for the handball-uebungen.de series. Felix Linden sees a lot of potential with free-throw situations – either through direct shots or subsequent playing variants – that is not yet taken full advantage of.
Base price for variant:
16,18 €
Sales price without tax:
16,18 €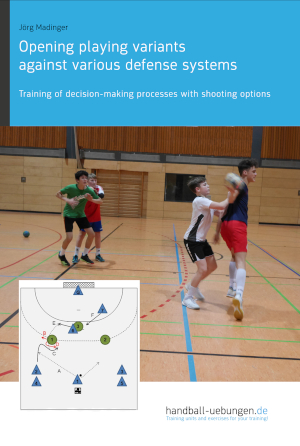 eBook: Apart from individual technical and tactical skills, practicing different systems of cooperation may be useful to structure the offense play and force the defense to move in order to score a goal. This textbook gives detailed step-by-step descriptions of initial actions and possible options for continuous playing against different defense systems. The playing variants aim at creating situations through team play in which the players are able to eventually shoot at the goal. If this is not possible because the defense players are very well- positioned, there are various continuous playing and subsequent shooting options explained in this book.
Base price for variant:
23,80 €
Sales price without tax:
23,80 €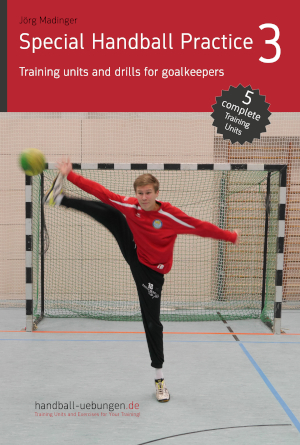 eBook: Goalkeepers are an integral part of the team and may have a great impact regarding the successful outcome of a game. In the daily training routine, however, it is not easy to support goalkeepers adequately. This can be achieved through special training units or exercises for goalkeepers in the second half of the court. Moreover, the team training should also include exercises that focus on the goalkeepers.
Base price for variant:
14,28 €
Sales price without tax:
14,28 €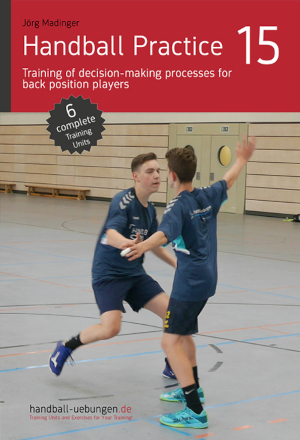 eBook: In modern team handball, the back position players are under high pressure regarding decision-making processes. In fixed positional play, their decisions are often crucial with regard to success or failure of an attack. In order to make the right decision within a fraction of a second, the players must repeatedly do exercises that provide them with several options so that they can practice taking quick decisions. Which shooting variant is ideal? Should I play a 1-on-1 attack and shoot at the goal myself or should I pass the ball to get one of my teammates in a good shooting position? Should I initiate a crossing or do a parallel piston movement once my teammate leaps into action – which option would be most successful? How quick and how often players make the right decision often makes the ...
Base price for variant:
9,51 €
Sales price without tax:
9,51 €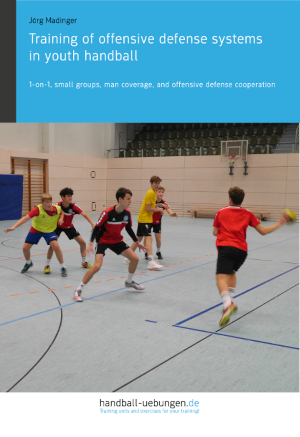 eBook: Offensive defense systems are one of the basic elements of youth handball – through creation of large spaces in width and depth, they promote the individual players' development both as offense and defense players. In the first place, offensive man coverage should be practiced. Through clear, fixed coverage of their respective opponent, the defense players have a well-defined responsibility which may result in the development of their individual defense play. In small groups, the players practice how to interact with and support each other step by step before they learn how to play the first variants of a two-line zone defense (1-5 and 3-3 defense systems). The exercises in this collection teach the basics of offensive defense play, with defending against the player in ball ...
Base price for variant:
16,18 €
Sales price without tax:
16,18 €
eBook: By making your training units more diverse, you can increase the players' motivation, since you consistently offer new approaches to improve and refine familiar movement sequences. In this book, you will find inspiring exercises you can apply during each phase of your everyday team handball training – from warm-up and goalkeeper warm-up shooting to the common contents of the main phase and the closing games. Each exercise is illustrated and described in an easy, comprehensible manner. Specific notes give you tips on what you need to be aware of. This reference book contains 75 individual exercises.
Base price for variant:
16,18 €
Sales price without tax:
16,18 €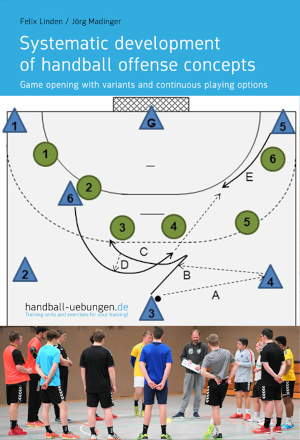 eBook: This is the second time Felix Linden (A-License and certified DHB young talents' coach for competitive areas) gives insights into his understanding of diverse and focused handball training in the book series of handball-uebungen.de. Based on crossing of the center back and the pivot (circle) – which is part of almost every team's repertoire in various forms – Felix Linden explains how you can create different game situations by using simple extensions and hence overcome defense systems with many variants. The individual training units deal with essential elements such as pulling apart a 6-0 defense system, authentic piston movements, pulling out a defense player, different shooting options, and decision-making. All training units focus on decision-making processes in particular. The training ...
Base price for variant:
15,23 €
Sales price without tax:
15,23 €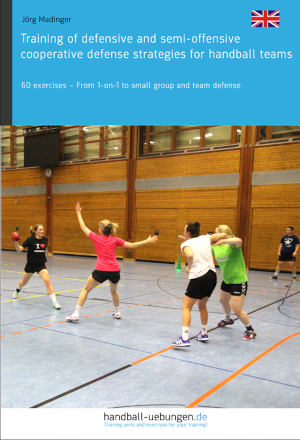 eBook: A good defense is a prerequisite for modern team handball. The intention is not only to prevent goals but also to actively win the ball and subsequently initiate a fast attack. The offense should permanently be put under pressure and forced to make mistakes. The exercises in this collection initially deal with the individual basics of defense play. Individual and position-specific training marks the starting point for subsequent cooperative defense play and allows for choosing the appropriate defense system. The basics both include exercises on legwork, 1-on-1 defense and covering the pivot in combination with fast adjustment to subsequent actions as well as blocking and anticipating on the wing positions of a proactive defense system. The second part of the ...
Base price for variant:
16,18 €
Sales price without tax:
16,18 €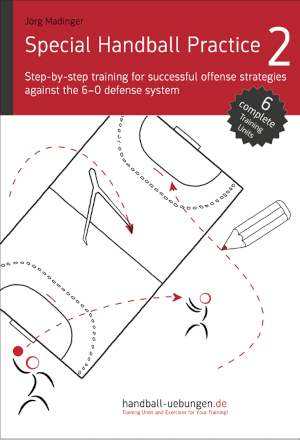 eBook: These training units elaborate initial actions against the 6-0 defense system as well as variable options for continued playing. The first three training units teach the tactical basics of playing against the 6-0 defense on an individual and a small-group basis. This includes the dynamic piston movement with breaking through decisions as well as the basics of crossing movements and team play with the pivot. The subsequent three training units introduce crossing of the center back with the wing player as aninitial action and provide three more options for the team to overcome the defense through continued playing.
Base price for variant:
14,28 €
Sales price without tax:
14,28 €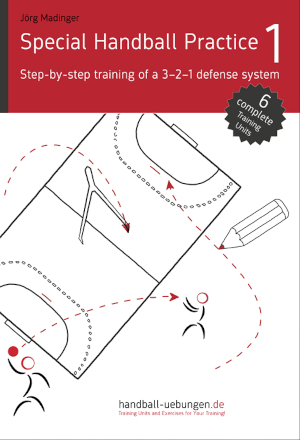 eBook: The 3-2-1 defense system is an excellent strategy to put the attacking players under pressure in their initial actions. This often results in quick turnovers and fast breaks. However, a good basic fitness as well as a thorough 1-on-1 defense training are prerequisite for this. To make your youth training comprehensive, include practicing the 3-2-1 defense system as a mandatory element. As in each volume of the handball-uebungen.de series, this book has its focus on practical exercises which can be integrated in each handball training unit. Get inspired, learn how to develop a 3-2-1 defense system, and don't forget to be creative on your own! A short theoretical introduction to the general training schedule will help you to integrate training units into your own annual ...
Base price for variant:
14,28 €
Sales price without tax:
14,28 €